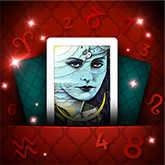 This New Moon Will Change You
Prepare yourself with the power of Astrology, Tarot and Numerology combined!

This New Moon in Libra begins a new cycle, but it won't be easy getting started! To help you achieve the powerful insight you need to move forward, we've combined the best of Tarot, Astrology, and Numerology in a one-of-a-kind Tarology Card report. Find out which Tarot card, based on your birth date, best represents your personality and ambitions. Then read on to discover your personal mission, your most powerful tools, your prime number, power planet ... and more.

P.S. Did you know you can get this report at no cost? You can, thanks to TrialPay.