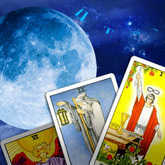 The Power Shifts this Full Moon...
So take this chance to look at yourself on a deeper level with a Tarology report

Here's the deal ... today's Full Moon is going to tempt you into the irrational emotional space. Luckily, this time it's in the earthy sign of Taurus, meaning we can actually avoid any lasting fallout from this lunar event, if and only if we tap into that Taurus power that fuels our desire to stay on course.
The best and most simple way to stay charged and focused, when illogical emotions are temping you astray, is to accept the aspects of yourself that make you unique. What do you control? What has the universe granted you? Astrology, Tarot and Numerology all offer helpful insights into these facets of you. But only one report reveals how all three come together in your favor...
The Tarology report uses your birthday to identify which Tarot card is unique to you, as well as the numerological and astrological symbolism behind your birthdate. This detailed 14-page report puts the power back into your hands by identifying your strengths and weaknesses and offering advice for embracing the real you -- especially during a Full Moon!
Not only will today's Full Moon light up the sky, it also has the chance to charge up your outlook on life. So get your Tarology report now and you'll never look at Tarot cards the same way.