SUPERMOON: This Year's Most Powerful...
Experience the personal impact of this super-sized event!

It'll be impossible to not see and feel the impact of this weekend's Supermoon in Aquarius! A Supermoon happens when the Full Moon is closest to Earth, making it bigger, brighter, and more powerful than ever! And this particular Supermoon is the closest and brightest Full Moon of 2014!
Astrologers and divination scholars agree: Now is the best time to use the proximity of this supercharged energy to discover the unique source of your strength. That's why we're putting one of our most popular tools for personal empowerment ON SALE...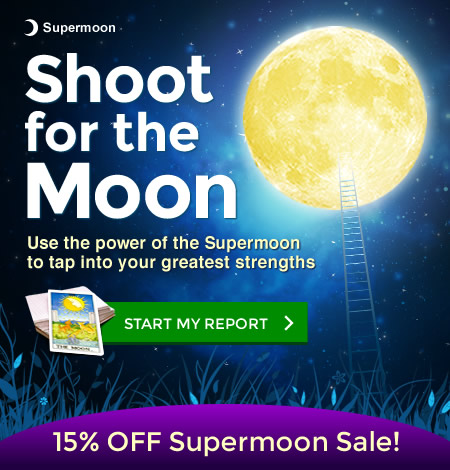 There is no better tool to light up your true mission in life than our exclusive Tarology Card Report. And in honor of this Supermoon, we're discounting it 15%! Your personalized report takes the powerful symbolism of Tarot and combines it with the art of Astrology and Numerology to identify which Tarot card guides and shapes who you are. You'll reveal your strengths and weakness, and discover how to illuminate your true self!
Right now, more than ever, is the best time to use this highly-charged energy to empower your life. So get your Tarology Card Report now and save 15% off! Or, get this triple-strength report at no cost when you take advantage of our TrialPaypartner offer.