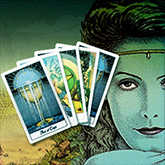 Ah Ha! Your Moment Has Arrived…
Create the future of your dreams, starting today!

Imagine your future ... what do you see? Are you happy, healthy and fulfilled? If you want that, you must envision it -- especially right now. Mercury is speeding into future-minded Aquarius, so this is your best chance to reimagine a brighter life for yourself!
But even as you look ahead, Mercury is still retrograde and holding you back. So you need to get creative about how to move forward! Manifest the future of your dreams by reflecting on the past, understanding your present and thinking BIG. Here's how…

The Timeline Tarot reading was designed to foresee past, present, and future events as they unfold. Each card reveals the journey you are on, helping you understand the possible consequences of your actions over time. Once you know what's coming your way, you'll have the confidence to think differently, plan accordingly, and maximize your future happiness.
Design the future you dream about while Mercury is in visionary Aquarius! Start your Timeline Tarot readingnow and gaze ahead. You can even see what's in the cards at no cost when you use TrialPay.