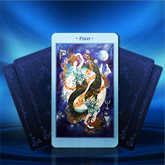 You could actually enjoy this Mercury Retrograde
Stay in control with Timeline Tarot this Mercury Retrograde.

Mercury Retrograde can cause a lot of anxiety, but when Mercury goes retrograde in super-sensitive Pisces this weekend, you may feel even more worried about what's going to happen. The good news is you can calm your nerves and stay in control easier than you think!
Notorious for disrupting our day-to-day communications and plans, Mercury Retrograde is probably the most dreaded of recurring astrological events. But there is a way to prepare for what's coming and avoid the impact of this tricky time...
The Timeline Tarot reading was designed to foresee and understand past, present, and future events as they unfold. Each card reveals the journey you are on and gives you the clarity to stay on course, no matter what happens during Mercury Retrograde. You won't have to worry about the unknown!
Stay in control with a Timeline Tarot reading, so you can actually enjoy Mercury Retrograde in peaceful Pisces as a chance to rest and dream.