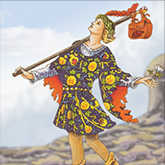 What's Coming Next May Fool You...
Be open to a better future this April Fools' Day.

Today's lighthearted holiday is known for pranks, but it also symbolizes the onset of new beginnings and a surge in curiosity. In Tarot, The Fool card encompasses all these meanings, reminding us that being open-minded and exploring new things is the key to getting us where we want to go!
But while The Fool's enthusiastic outlook is a positive message, the card's meaning also hints at the need to "look before you leap." So get a glimpse of what the future might bring today and, like The Fool, embrace the possibility that the unknown could lead to exciting new adventures!
A Timeline Tarot reading is the perfect tool for anticipating opportunities. It helps you understand your past, appreciate the present, and gain insight into both the near and far future. Once you know what's coming your way, you'll be able to move forward with the confidence of The Fool.
Get the Timeline Tarot reading today -- you deserve to know what's in store so you can make the best of whatever comes you way! You can even get this reading for free with our TrialPay partner offers.