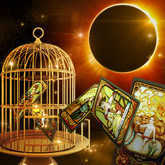 SOLAR ECLIPSE: It's Just Like Magic...
Watch new opportunities appear with the New Moon Solar Eclipse!

Solar Eclipses are extraordinary! You should be especially excited about tomorrow's inspirational New Moon Solar Eclipse, because it signals an end to the hardest part of 2014, freeing you to pursue new experiences and explore the world around you.
Solar Eclipses hold a magical influence over our imaginations, creating endless possibilities. This particular eclipse in practical Taurus holds opportunity for us all to let go of what's not working and create space for new beginnings. Let the Tarot reveal what this means for you...

A Timeline Tarot reading is the perfect way to prepare for all the new opportunities this Solar Eclipse will bring! This special spread is designed to help you understand your past, appreciate the present and foresee future events as they unfold. Once you know what's coming your way, you'll have the confidence to think differently, plan accordingly, and maximize your future happiness.
Now's the time to open the door and embrace new possibilities! Get your Timeline Tarot readingtoday so you can make the most of what's coming your way. You can even see what's in the cards for free with TrialPay.