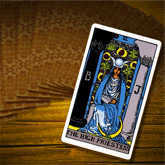 You must trust your intuition now
Awaken your insight with Tree of Life Tarot during Saturn's powerful retrograde

It's never easy doing "inner work" to improve yourself, but it's about to get a lot easier -- at least for a little while. Now that Saturn has just turned retrograde, this planet that helps us most with personal empowerment will awaken our awareness and urge us to act!
You can't hide from yourself when Saturn is retrograde. It's a wake-up call to stop ignoring the things you need to change. But before you can re-energize and move forward, you need to take an honest, internal look at your current life and your future prospects. Here's how to do it...

Tree of Life Tarot can transform your life from the inside out! This mystical spread derives from the Hebrew Kabala, using 10 card positions to reveal your key energy centers within. It actually helps align your physical body with your trusted intuition to awaken your awareness and compel you to act!
While Saturn Retrograde is empowering you to reset your entire body, mind and soul, the Tree of Life Tarot will guide the way.