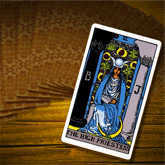 You Must Trust Your Intuition NOW!
Awaken your insight to prepare for the challenging year ahead.

It's never easy doing "inner work" to improve yourself, but now that the hectic holidays are over and a new year has begun, it's time to refocus yourself and begin taking action. What do you want to accomplish in 2014? Now is the time to awaken your awareness and act!
A new year is a new beginning, and a wake-up call to stop ignoring the things you need to change. But before you can re-energize and move forward, you need to take an honest, internal look at your current life and your future prospects. Here's how to do it...

Tree of Life Tarot can transform your life from the inside out! This mystical spread derives from the Hebrew Kabala, using 10 card positions to reveal your key energy centers within. It actually helps align your physical body with your trusted intuition to awaken your awareness and compel you to act!
While the new year is empowering you to reset your entire body, mind and soul, the Tree of Life Tarotwill guide the way. And you can even get this invigorating insight at no cost with TrialPay.