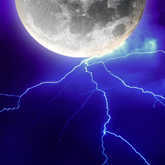 Full Moon Lunar Eclipse
There's no going back

Tomorrow's Full Moon has been building for two weeks. But what's even more interesting is that it's not just a Full Moon, but also a Lunar Eclipse in Gemini, making it twice as potent and guaranteed to reveal important messages. But don't think you can just show up tomorrow, unprepared for this fire hose of emotion.
After you experience the culmination of feelings and ideas this Full Moon brings, you won't want to go back to how it was before. So how can you make sure you're ready to receive this level of intensity? Clear your mind for healing and positive revelations with this...

The Tree of Life Tarot reading was designed to re-energize and evaluate your awareness of big ideas. Analogous to Hindu's seven chakras, this reading will give you a complete reset of your mind, body and soul. As you focus on your concerns, the cards reveal what you need to do to be more open to giving and receiving messages -- especially during this intense Full Moon!
There's no going back after this Full Moon Eclipse energy strikes, so make it last with a Tree of Life Tarot reading.
Be prepared!