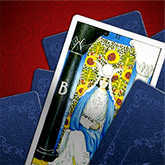 Mercury in Aries: Don't make a mistake you can't take back
There is only one thing you have to listen to right now -- you. Here's how...

You could find it harder to focus right now. It's no wonder. The fast-moving planet Mercury is jumping into lively Aries today, making communication more charged and volatile than usual.
With Mercury taking in too many messages and impulsive Aries pushing for action, it will be easy to make a bad decision and fall off course. And if you're not careful, you may find yourself wishing you could take things back. Be certain you're acting on the right message using this...

A Tree of Life Tarot reading helps you realign your intuition and stay on the path you're meant to follow. As you focus on your concerns, each card reveals advice on how to clear the clutter so you will be more open to receiving the right messages ... especially now.
Tune out chaotic Mercury in Aries messages and listen to the voice that matters most -- your intuition! Get your personal