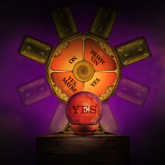 Temp Your Fate ... and Win
You're probably thinking about tempting fate right now ... but be careful!

If you wake up tomorrow feeling the urge to "get the heart" of your current love life or lack of love life, there's an explanation for that. Venus will be trine Uranus, making it almost impossible to resist tempting fate. But be careful ... trying to rush fate can be a slippery slope.
Too often when it comes to life's big questions, we seek quick and simple answers like "yes" or "no." In fact, there are many popular tools people turn to when they just have to know. The most popular? A Yes or No Tarot Reading. But don't be fooled! There are authentic Yes or No Tarot readings, and there are bogus ones. Here's the difference...

The only way to get a simple answer like "yes" or "no" from the Tarot is to call upon the most powerful card for determining destiny-- the Wheel of Fortune. Renowned Tarot expert Mary Greer's Yes or No Tarot reading exclusively uses this card to guarantee an authentic result. Depending on where the Wheel of Fortune card lands, your answer will be revealed. Plus, the additional 7 cards you choose will add a layer of intensity and insight to your answer.
So if you don't want to upset fate, skip those bogus Yes or No Tarot readings that don't consult the Wheel of Fortune card. Get answers from the real fates with your Yes or No Tarot reading.