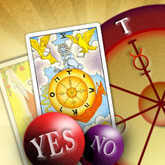 Get Answers! Mercury Retrograde Is Finally Over!
Find out what to do next with Yes or No Tarot

Whenever I explain Mercury Retrograde to my friends, they almost always say "No way! I knew something was going on!" Then their next question is, "When does it end?" So today I'm sending out the "all clear" signal to everyone, because Mercury finally turns direct!
That's right -- the communication breakdowns, electronic snafus and travel woes should start to ease up. Which means you can now make decisions and move forward. But which way to go? Should you take that job? Accept that second date? The answers are clearer than ever...

Sometimes you don't want the many shades of gray that complex questions yield -- you just need a clear "yes" or "no," and Tarot expert Mary K. Greer's Yes or No Tarot reading delivers just that. Using the power of the Wheel of Fortune card, you'll get an instant answer to help you better understand the direction the universe wants you to go.
Mercury Retrograde is finally over, so get the clarity you need to make confident decisions with Yes or No Tarot! And at this low price, you don't have to bite your tongue -- ask all the pressing questions you want!