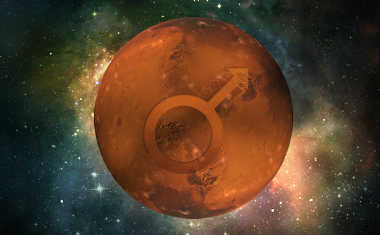 The fiery warrior planet Mars cools off a bit in Aquarius. The rational tendencies of this highly intelligent air sign put the focus on ideas and high ideals, rather than Mars' usual primal passions.
The mind is the great battlefield; ideas are the weapons of choice. This is a time when we may be more comfortable fighting for a cause than for ourselves. There's a bit of detachment with Aquarius, which means that Mars' anger may not be easy to trace to its source now. When feelings are strong, look behind them to find the personal reasons for such intensity.
Mars has to do with methodology, or the way we get things done. Mars in Aquarius does not like to follow the rules or anyone else's plan. Invention and originality are favored now, so sticking to tradition and custom may be difficult.
This transit will bring us across the threshold of the new millennium. Innovation enables us to step outside the old framework to find solutions to our problems. Explore, experiment, try a different approach now. Each small act of liberation contributes to our collective evolution into the future.
Famous people born with Mars in Aquarius include Isadora Duncan, Kurt Vonnegut, Winona Ryder, Andy Kaufman, Eric Idle, Farrah Fawcett, Lee Harvey Oswald, Mae West, Pete Rose, Joanne Woodward and Howard Hughes.
Learn more about the Aquarius zodiac sign by reading Real Life: Aquarius