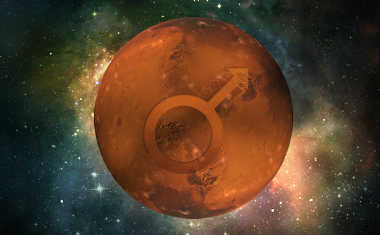 On the surface Mars and Virgo seem very different. Mars is direct, impulsive, fiery and impatient, while Virgo is careful, practical and detail-oriented. However, these two share a certain sharpness that can be combined to enhance productivity and higher levels of efficiency.
Neither Mars nor Virgo wants to waste time. Both understand the value of getting a job done with dispatch. This period, then, can help us find out where to cut the fat in our work habits, so that tasks are handled quickly, making time for the development of new skills. Taken to its extreme, however, this focus on results can manifest as ruthless detachment and a lack of concern for the human side of the equation.
The critical (Virgo) attack (Mars) is a negative potential for this period. It's easy to find fault and express oneself aggressively. If a situation is getting too tense, it may be that someone is frustrated by a lack of efficiency or are feeling a loss of power. Patiently attacking problems in a systematic way can help restore harmony.
Mars in Virgo seems appropriate for the charts of such images of chastity as Brooke Shields and Chelsea Clinton, but how did Amy Fisher get into this group? Therapist John Bradshaw, astronomer Carl Sagan and lawyer F. Lee Bailey were also born with Mars in Virgo, as was Clinton foe Kenneth Starr.
Buddies Ben Affleck and Matt Damon, Magic Johnson, Melanie Griffith, Bonnie Raitt, Kathy Bates, Stevie Nicks and Jacqueline Onassis were also born with Mars in Virgo, as were Dianne Feinstein and Michael Caine. It should be no surprise to find the sharp-tongued Joans-Collins and Rivers-in the group. But, wildmen Evel Knievel, Little Richard and Jerry Garcia, and wild woman Yoko Ono are suprise members of the Mars in Virgo clan.
Learn more about the Virgo zodiac sign by reading Real Life: Virgo