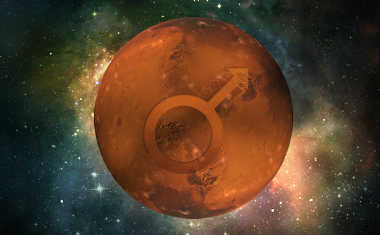 Mars in Gemini is an energetic planet in a highly mobile sign. The fact is, however, that Gemini moves in more than one direction at a time, in contradition to Mars' knifelike thrusts. Mars does best when it's focused. It is pure hunter instinct that hones in on the target, then strikes its blow. But, Gemini is a better talker than a fighter. It's a wanderer and thinker, not a killer.
The challenge, then, is to stay on track. But, maybe that's not even possible now. Maybe we need to stay on more than one track. Diversity is the name of Gemini's game. Brief incursions may work better than full-scale invasions. Gemini is about tasting little bits at a time, rather than making a total commitment. We might all work more efficiently now if we have a variety of tasks that we can move among like butterflies.
Step lightly in the airy sign. A heavy footprint will only bog you down. This is a time for dancers, not stompers. Wit works wonders when properly placed. The greatest weapon is the mind with Mars in Gemini. Just remember what it feels like to be at the other end of the verbal barb, and avoid laughing while others cry.
Mars in Gemini seems common among divas: Barbra Streisand, Diana Ross, Aretha Franklin and Lena Horne were born with it. Wayne Newton, Tammy Faye Bakker, Eva Peron, Josephine Baker, Fabio and Arnold Schwarzenegger are also part of this group. Make of it what you will.
Raucous rocker Jimmy Page, Keith Richards, Jim Morrison, Roger Daltry and Leon Russell belong to this band, along with wordsmiths Randy Newman, Joni Mitchell and Kris Kristofferson. We've got randy royals (or royal wannabees) Prince Phillip and Camilla Parker Bowles, and tennis stars Billie Jean King and John McEnroe. We have very bad boys O.J. Simpson and Mike Tyson, and less dangerous ones like Sean Penn and Dennis Hopper.
Mars in Gemini can dress up like model Naomi Campbell or cross-dress like M.A.S.H.'s Jamie Farr; roleplay like writer George Plimpton and make us laugh like Steve Martin, Chevy Chase, Tom Arnold, Albert Brooks and Penny Marshall. Gemini brains show in smart girls Alicia Witt, Uma Thurman, Meryl Streep and Erica Jong, and clever boys Sean Connery and Peter O'Toole. There are dreamers here too: like Lech Walesa, Martin Luther King and The Little Prince author Antoine Saint-Exupery to remind us that hope has no boundaries and imagination no limits.
Learn more about the Gemini zodiac sign by reading Real Life: Gemini