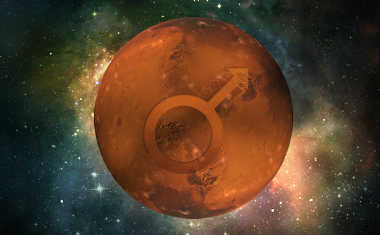 Mars, the action planet, is rather comfortable in fiery Leo. The nature of Mars is to initiate, take risks and lead. These qualities are supported by Leo's role as a take-charge personality. This period, then, is one in which there is support for those who have the courage to let their hearts lead the way.
A possible challenge at this time is that impulsive young Mars energy may take itself too seriously, posing as a mature Leo leader who has earned the throne. It's as if the prince acts like he's the king. Leo's royal confidence grows from experience that Mars often often lacks. Without the seasoning wisdom of time, he can come across as arrogant, or all sizzle and no steak. Even a prince has to pay his dues if he is to be a great ruler.
Leo is a fixed sign, one that doesn't change easily. Mars may lose some its spontaneity and operate in a more sluggish way than usual now. The essential issue is whether Leo will be in its open, creative and generous mode or its dominating and stubborn one. If Mars can keep it light and playful, the former will win; if it takes itself too seriously, the latter will. The greatest potential of this period, therefore, is for those who put play before conquest.
Competitive Mars in Leo appears in the birth charts of champions such as Gary Kasparov, Michael Jordan, Wilt Chamberlain, Joe Louis and Jack Dempsey. Big-hearted athletes Doug Flutie and Andres Galarraga were also born with this combination. Dennis Rodman certainly reflects the flashy qualities of Mars in Leo, and was also on several championship teams.
The music world's creative Mars in Leos include a Chairman of the Board (Frank Sinatra), a Duke (Ellington), a Boss (Bruce Springsteen) and a Godfather (of grunge, Neil Young). Mars in Leo legends Paul McCartney and Brian Wilson were born only two days apart, and are joined in this group by Ringo Starr, Beatles manager Brian Epstein and glamour queens Cher and Boy George.
Other showbiz Mars in Leos are Jodie Foster, Demi Moore, Conan O'Brien, Michael J. Fox, Kathie Lee Gifford, Sigourney Weaver, Billy Crystal, Richard Dreyfuss, Candice Bergen, Goldie Hawn, Harrison Ford, Martin Sheen, Robert Redford, Sophia Loren, James Dean, Fred Astaire and Billy Bob Thornton.
Thomas Jefferson was born with Mars in Leo, as were Hillary Rodham Clinton and Boris Yeltsin. More ominous members of this group are the flamboyant Imelda Marcos (good company for Cher and Boy George) and that fatal duo of leaders born just four days apart, Marshall Applewhite and Jim Jones. Ending on a more inspirational note we find the great spiritual teacher Alice Bailey to remind us that the greatest love can surpass pride, will and ego and touch the very heart of humanity.
Learn more about the Leo zodiac sign by reading Real Life: Leo