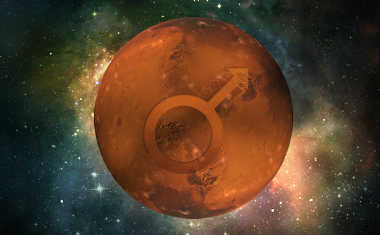 Mars is very much at home in Scorpio. According to traditional astrology, Mars is the ruler, or key planet, of Scorpio (and Aries, as well). It shares an affiinity with this sign, so it can work very efficiently here. Scorpio's about getting to the bottom of things so that they can be completely transformed. Warrior Mars is made to stimulate and provoke change.
There's intensity and passion during this cycle. Tenaciousness is common with action-oriented Mars in this fixed sign. The positive is the ability to persevere and work through difficult challenges. In fact, it's been said that Mars in Scorpio doesn't like doing things the easy way. Resistance (to a degree) is just another obstacle to test Mars' power here.
Fiery Mars in watery Scorpio has a less attractive feature that can be expressed as unrelenting aggressiveness or anger. This can be either overt or hidden, but will prolong conflicts and be destructive to relationships. The trick here is aiming carefully when selecting which walls you want to tear down. Taking on projects that require passion and intensity helps to direct Mars in Scorpio energy constructively.
Mars and Scorpio share a strong relationship with sexuality that can raise like to lust and transform nice into naughty. Of course, healthy sexuality not only encourages intimacy, but directs passion in a most delightful way.
Mars in Scorpio intensity and life-changing issues were part of the work of musicians Kurt Cobain, k.d. lang, Harry Chapin and Jimi Hendrix. World class athletes born with Mars in Scorpio include Reggie Miller, Scottie Pippen, Bobby Hull and Deion Sanders.
Sexual themes have been important for Mars in Scorpios Robert Mapplethorpe, Larry Flynt, Charlie Sheen, Margaret Trudeau and Chloe Sevigny. Dancing with death and life's shadowy issues has marked the lives of Carlos Castaneda, Martin Scorsese and Bruce Lee. Tragedy has played a prominent role in the lives of Robert and Caroline Kennedy, both born with Mars in Scorpio, but he with stereotypical intensity and she with apparent restraint.
Among the many powerful women born with Mars in Scorpio are Oprah Winfrey, Susan Sarandon, Geraldine Ferraro, Anne Bancroft, Princess Grace and Ursula Le Guin. Performers Leonardo DiCaprio, Mel Gibson, Isabella Rossellini, Jeremy Irons, Danny Devito, Jon Voight and Bill Cosby also have this combination in their charts. The positive healing properties of Mars in Scorpio have contributed greatly to the success of Deepak Chopra.
Learn more about the Scorpio zodiac sign by reading Real Life: Scorpio