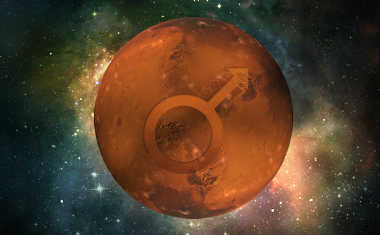 When the warrior Mars enters peaceful Libra he puts away his arms of aggression and puts on his diplomat's coat. This is a time when strategy counts more than brute force. Initiative involves negotiation and partnership, rather than Mars' usually independent ways. Reaching out with an open hand is more effective than threatening with a fist.
Mars isn't comfortable in Libra, according to astrological tradition. Libra is the sign of Mars' detriment, opposite its natural home in Aries. This means that Mars is considered weak in Libra, because it can not operate in its most natural way. However, modern astrologers recognize that a planet in unfamiliar territory presents unique opportunities, not just challenges. When disparate elements such as spontaneity and strategy, individuality and co-operation or action and reflection meet, the mix is combustible, but very powerful. Those able to harness these seeming contradictions can gain the strengths of both sides, rather than being confused or torn between them.
We all have a greater possibility to build bridges now as martian initiative meets Libran conciliation. It takes courage to make peace, and this combination favors those who move in that direction. The shadow side of Mars in Libra, however, is the smile-wearing (Libra) attacker (Mars) who masks his aggression with a pretense of kindness. We are likely to find ourselves carefully measuring others to balance the seemingly opposite forces of self-interest and co-operation during this period.
Mars in Libra shows up in the charts of charming seducers Bill Clinton and Michael Douglas, business tycoons Bill Gates, Richard Branson, Ted Turner and rockers Elvis Presley, Peter Gabriel and John Lennon. Stylish singers Whitney Houston, Natalie Cole and Karen Carpenter were also born with this combination.
Actors Jason Alexander, Whoopi Goldberg, Heather Locklear, Donald Sutherland and Cybill Shepherd have Mars in Libra, as do gracious newswomen Barbara Walters, Connie Chung and Maria Shriver. This planetary combination shows up in the charts of Moores: Mary Tyler, Dudley and Roger. Religious and spiritual matters count, albeit quite differently, for Mars in Libra people like the Dalai Lama, Cat Stevens, Jerry Falwell and Jimmy Swaggart.
Learn more about the Libra zodiac sign by reading Real Life: Libra