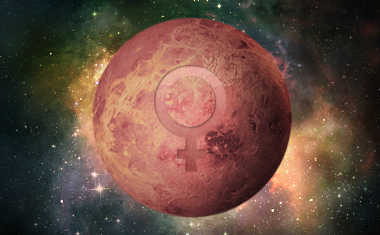 Venus, the planet of love and beauty, is traditionally associated with two signs: Taurus and Libra. Libra represents the relationship part of Venus, Taurus the sensual side. While Libra's about sharing, Taurus is about one's own physical pleasures. This "Garden of Eden" sign reminds us of the physical joys of life, particularly those that are given, rather than earned.
There's a highly self-indulgent side to Venus in Taurus. Appetites can be very strong. Those born with this combination who reflect this hunger include Marlon Brando (food), Imelda Marcos (shoes), Henry Kissinger (power) and Prince (sex). Fortunately, however, there is a more comfortable side to Venus in Taurus as well: an appreciation for life's simple pleasures.
The beauty of Venus in Taurus can be its ability to enjoy the basics in people and things. During this time our partnerships could bog down in Taurean stubbornness. But, there is also a strong chance that we can simplify complexities, get down to fundamentals and rebuild relationships from the ground up. Ideally, this is a time to bring love, money and values (all Venus issues) down to earth where they can be dealt with directly and easily.
Venus in Taurus is found in the charts of royals (Prince William and the late Princess Diana) and royal wannabes (Nancy Reagan), politicos (Al Gore, Thomas Jefferson) and builders (Stephen Bechtel). There are Venus in Taurus musicians (Billy Joel, James Taylor, Eric Clapton, Brian Wilson, Paul McCartney and Willie Nelson) and actors (Johnny Depp, Sandra Bernhard, Jessica Lange, Billy Crystal, Ann-Margret, Warren Beatty and Dennis Hopper).
This is truly a time to enjoy life's garden. Slow down, stop, smell the roses and all the delicious odors of spring. This is a time to remember that there is value in receiving, with pleasure free to all willing to just breathe it in.
Learn more about the Taurus zodiac sign by reading Real Life: Taurus