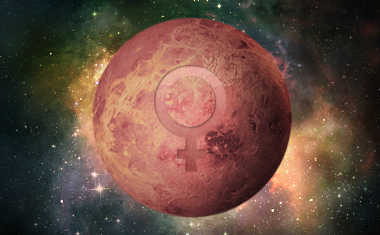 Venus, the planet of love and beauty, is off to adventure in experience-seeking Sagittarius. Lust for life and expansion of the boundaries of pleasure are supported now. Love is about expanding limits here. We may give up some of the comfortable patterns of the past and risk relationship safety for new levels of experience. Love needs to grow now; it will not stand still.
Travel, learning and a taste for all that's foreign may be heightened. It's hard to stick to the old routine when the planet of pleasure hits the road. This desire for the new and exotic may reveal some weakness of judgment. Purchases are more likely made with joyful abandon rather than with an eye on long-term value. People, too, can be overrated, particularly if they offer the promise of adventure or enlightenment.
Among those born with Venus in Sagittarius are spiritual teachers Sai Baba, Paramhansa Yogananda, Alan Watts, Albert Schweitzer and Deepak Chopra. Rockers David Bowie, Jimi Hendrix, Tina Turner and Pete Townsend have Venus in Sag, as do both Paul Simon and Art Garfunkel.
Quite a number of writers were born with the planet of the arts in this literary sign. Art Buchwald, Lewis Carroll, Kurt Vonnegut and Mark Twain were some who wrote from a humorous perspective. Political figures with Venus in Sagittarius include Winston Churchill and Margaret Thatcher from England's Conservative Party, and Russians Boris Yeltsin, Joseph Stalin and Alexander Solzhenitsyn.
Finally, we must thank Venus in Sagittarius for her great sense of humor. Two contemporary examples of Venus in Sag's "almost anything goes" comedy are the free-spirited Whoopi Goldberg and Roseanne. Laughter lifts our spirits, opens the heart and shows us the limitless boundaries of joy symbolized by Venus in Sagittarius.
Learn more about the Sagittarius zodiac sign by reading Real Life: Sagittarius