Halloween is creeping closer! With the Sun in deep, dark Scorpio and the Moon flying through weird Aquarius this year, Halloween night is sure to be intriguing... Watch Astrologer Rick Levine explain the Astrology happening on Halloween 2014, then read on for Astrology tips and Tarot insight for this otherworldy eve...
Free Tarot Reading for Halloween
Scare up some insight this Halloween with a FREE 3-card Tarot reading using the Halloween Tarot deck! Ask any question here.
Halloween Costumes of the Zodiac
We all love to play dress up on Halloween. From scary to hilarious, there's certainly something for everyone. But what costume would your sign look the best in?
Spooky Tarot Cards
Just in time for Halloween, let's take a look at the history and meaning of the three Tarot cards that leave most readers shaking in their metaphysical boots: The Tower, The Devil and Death cards.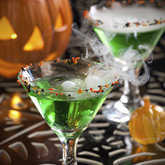 Halloween Celebrations Through the Zodiac
Whether you're a Halloween fanatic planning months in advance or you wait until the last minute, you don't want to miss out on the fun-filled holiday of Halloween.
Superstitions of the Zodiac
Black cats, ladders, Friday the 13th and Halloween traditionally get a bad rap among the superstitious. Let's explore the fears of every zodiac sign. If you are superstitious, you can use this as a guide to what your sign should avoid!
The Fear of Tarot Readings
Have you ever been scared to get a Tarot reading? Most people find the insight we can get from Tarot cards thrilling, but there are some who find the process intimidating or frightening. If you're one of those few, it's time to face your fear of Tarot so you can move past it.
Dating Horrors Through the Zodiac
Often the scariest evenings are not when there's a creaky floorboard or a ghostly chill, but when you're curled up with your date watching a movie on TV, or when you're on your first vacation with each other and you're about to head to the beach ... and then it happens!
The Day of the Dead
Following Halloween, El Dia de los Muertos, The Day of the Dead, gives us an opportunity to connect with the spirits of our legacy. Learn more about this spiritual holiday and Astrology's connetion to its energy and roots.
Wicked Divination Deals
Celebrate the most horrifying holiday in style! It's easy with this monstrous selection of Tarot, Astrology, Numerology and other insight to light up the ghoulish night.