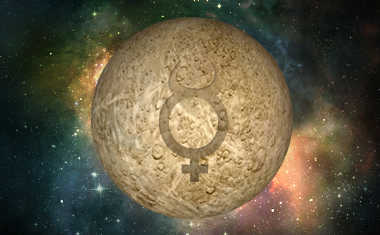 This planet of communication gets down to the depths whenever it's in Scorpio. The mind melds with emotions, descending into the body, into the past and into life's mysteries. This can be a very powerful period for talking about difficult issues regarding relationships, money and mortality. Psychological awareness is more acute now, as perceptions take us under the covers of the obvious, seeking hidden meaning and motivations.
The dark side of Mercury in Scorpio is represented by the mistrusting mind, one that holds secrets and fears them at the same time. Communication becomes a means of control, rather than connection. However, seeing our fears doesn't mean that we have to perpetuate them. The opportunities are ripe for discussing heretofore forbidden subjects, resulting in greater degrees of trust and intimacy.
Deep thinkers born with Mercury in Scorpio include Deepak Chopra, Jodie Foster, Carl Sagan, Sylvia Plath and Hillary Rodham Clinton. Joni Mitchell, Paul Simon and John Lennon expressed their deep thoughts in songs.
Martin Scorcese's Mercury in Scorpio puts the lens on life's dark side, unlike Jesse Jackson, Prince Charles and John F. Kennedy Jr. Movie star Merc in Scorpios are Winona Ryder, Demi Moore and Richard Dreyfuss, while television brings us Suzanne Somers, Henry Winkler, Susan Lucci and Chris Noth.
Mercury in Scorpios Whoopi Goldberg and John Cleese make us laugh, while Bonnie Raitt and Luciano Pavarotti please our ears. Dr. Bernie Siegel teaches us how to face the fear of disease and transform ourselves through spiritual awareness. This reminds us how changing our perceptions changes our reality.
Learn more about the Scorpio zodiac sign by reading Real Life: Scorpio