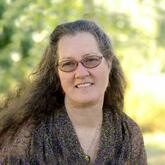 Christine Payne-Towler
Tarot mystic, author and expert Tarot reader
Christine Payne-Towler came to Tarot.com through founder Paul O'Brien's Pathways Radio program. Not only is she a gifted reader who adds deep psychology and hard-won wisdom to her Tarot readings, Christine is a world-class Tarot scholar with an encyclopedic knowledge of Tarot's origins and evolution. She has been featured on many broadcasts and is the author of The Underground Stream: Esoteric Tarot Unveiled, a book on the history and deeper meanings of Tarot decks and cards.
Read more excerpts from The Underground Streams: Esoteric Tarot Revealed:

History of Tarot | Esoteric Origins of Tarot | Criteria for Esoteric Tarot | The Gnostic Tarot | Kabbalah | Confluence | Continental Tarots | Spanish School | The English School | Major Arcana Theory | Minor Arcana | Major Arcana Cards | Coins | Cups | Swords | Wands | About Christine Payne-Towler
Christine Payne-Towler started her study of Tarot in 1970 with the purchase of a used deck, and has used Tarot, Astrology and Kabala for Self-Initiation -- a sacred inheritance from the Mystery Schools of the ancient world. Her realization that Tarot is essentially the "flash cards of the western mysteries" has been the motivating force of all her work.
Some years ago, Christine was invited to join a Templar lodge, which allowed her even better access to the inner traditions associated with the imagery and esoteric content of Tarot. She was inspired to participate in the Secret Society movement of ancient times, which is still alive and well, and continues to provide the framework within which seekers can align themselves with the great work of human evolution going on in all places at all times. Christine's school, Tarot University, offers classes, chat rooms, articles and book/deck reviews.
At present, Christine continues private practice in Oregon, and can be reached for sessions or tutoring at 1-800-981-3582. Also for the purposes of scheduling sessions with her, Christine may also be reached by email at Christine@TarotUniversity.com.
Articles by Christine Payne-Towler