Reveal the Daily Astrological Cycles That Will Impact YOU
Get personalized Astrology, free readings, and more with a VIP Membership
Do you ever feel like you're not the typical Sign? Are you more laid-back than you are competitive? Are you more cautious than impulsive? Either way, your Sun sign is only one small aspect of who you are and what life presents you with -- EVERY planet plays a role in how you feel, love, communicate, and experience the world around you.
The best way to access your one-of-a-kind, personalized Astrology content is through our Tarot.com VIP Membership! You'll see how the current planetary positions are interacting with your personal Astrology chart, delivering a horoscope that is unique to you and ONLY you. Your membership also includes a FREE Tarot reading every month, an ad-free experience, and more! Discover the benefits of becoming a VIP today...
Personalized Astrology
See how the planets are affecting YOUR chart
Horoscopes that are written for your Sun sign are a powerful source of guidance, but they can only scratch the surface... If you knew how the current planets were aligning with all the other planets in your specific chart, you'd have a MUCH more detailed idea of the energy that is impacting you and how to work with it -- and that's exactly what you get with a VIP Membership! Going far beyond your daily horoscope, this membership gives you access to your personalized Astrology transits for the whole month. You'll see which planets in your chart are being triggered each day and get an explanation of how this energy can play out in real life. Your Astrology is like no one else's, so your horoscope should be like no one else's! Become a VIP Member and get this personalized guidance now.
Try our VIP Membership for FREE now »
Free Tarot Readings
Get a premium Tarot reading every month for free!
When you need more answers around a pressing issue in your life, you can get personal advice from a FREE Tarot reading! Your VIP Membership comes with one free Tarot reading every month, with over 40 readings to choose from. Ask about your love life, your money situation, a big career change -- whatever you are facing, there's guidance waiting for you. Your first Tarot reading will be accessible as soon as your 7-day free trial ends, then each month you'll receive a voucher for another free reading upon renewal of your membership.
Try our VIP Membership for FREE now »
No Ads
An ad-free experience helps you stay focused on what matters
We're stripping out the ads on our daily insight pages so VIP Members can read their Daily Horoscope, Daily Love Horoscope, Daily Tarot Card, and more without the distraction! With no ads, you'll be able to connect more meaningfully with the personal insight you came for and less likely to miss something important. Start each day with focus and intention -- become a Tarot.com VIP Member and start your ad-free experience now!
Try our VIP Membership for FREE now »
Have you signed up to become a Tarot.com VIP yet? With our VIP Membership, you'll have access to free premium Tarot readings, personalized Astrology horoscopes, limited ads, and more to make your time on Tarot.com as insightful as it can be. Better yet, you even get a FREE 7-day trial first to see if you like it. Keep reading to see everything you'll get with this specialized membership opportunity!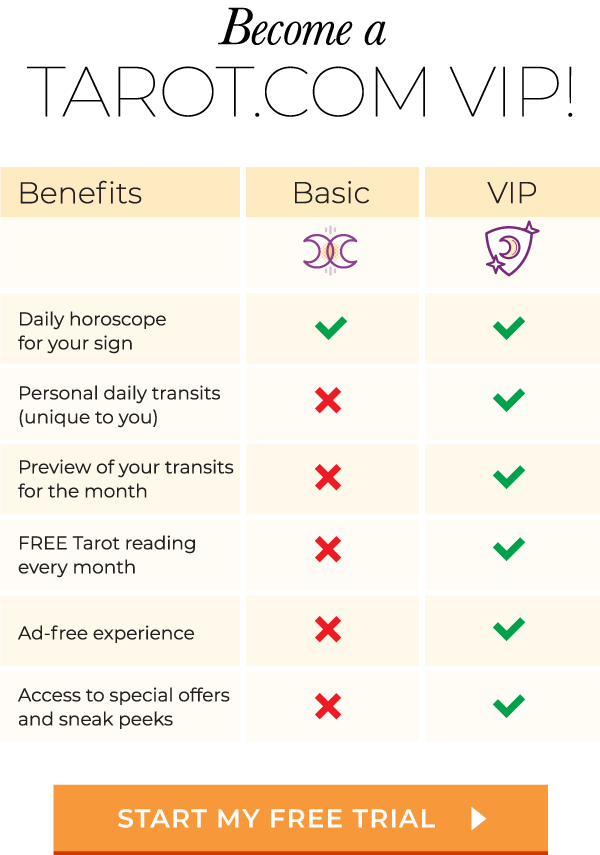 More For Today