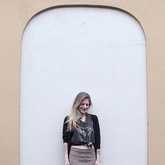 Coleman Stevenson
Gemini Sun. Pisces Moon. Leo Rising.
Coleman Stevenson is a poet, writer, and artist who's been practicing Tarot since the early 2000s. As the creator of The Dark Exact Tarot Deck and its accompanying guidebook, she's been able to offer her vision of the Tarot as something rooted in archetype, symbol, and history. Her series of books, "A Small Collection of Specialized Spreads," is another way of sharing her love of Tarot with others.
Coleman makes a variety of divination and ritual tools that are available through The Dark Exact on Etsy. She's also the person behind some of our most popular Tarot readings, Two Hearts Tarot and Hidden Truth Tarot. Coleman currently writes and teaches from her historic home in the Midwestern US.
Follow Coleman: Instagram | Twitter | Website
More For Today
Weekly Love Horoscopes
Weekly Tarot Horoscopes
Monthly Horoscopes
2023 Love Horoscopes
2023 General Horoscopes
Personalized Horoscopes
View All Horoscopes
View All Tarot Readings
Articles by Coleman Stevenson