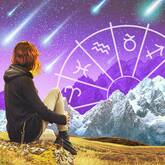 Tarot.com Astrologers
Meet the astrologers behind Tarot.com's authentic Daily Horoscopes
Tarot.com's Astrologers share their insight and expertise to deliver profound and useful guidance to help you make the most of your day, every day.
Curious as to who's behind your zodiac sign's horoscope for the month? Learn more about the expert astrologers behind the words you depend on to start your day!
Meet Our Daily Horoscope Astrologers

Eva Sylwester
Eva Sylwester began exploring Astrology and other new frontiers in spirituality shortly after she earned her B.A. in Psychology and Religious Studies from the University of Oregon in 2007. Aside from our Daily Horoscopes, Eva also writes about dreams for The Symbolism out of her home in Eugene, Oregon.

J. Bullis
J. Bullis discovered Astrology when she received a birth chart reading. She was fascinated with the results and this fascination grew into a passion for understanding the inner mechanisms of how the stars affect us and helping others to understand more about themselves through Astrology.

Patrick Phillips
Patrick Phillips is a professional astrologer and Tarot reader with over a decade of experience. When he isn't deciphering stars and cards, he can be found working as a writer and historian specializing in Early Modern European history. He lives in Los Angeles and has managed to come to terms with it.
More For Today
Weekly Love Horoscopes
Weekly Tarot Horoscopes
Monthly Horoscopes
2024 Horoscopes
Personalized Horoscopes
Birthday Horoscopes
View All Horoscopes
View Tarot Readings
Articles by Tarot.com Astrologers