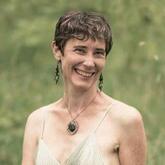 Emily Trinkaus
Sun Sign: Virgo
Moon Sign: Taurus
Rising Sign: Gemini
Emily Trinkaus has been a passionate student of Astrology ever since discovering Linda Goodman's Sun Signs at age 13. She started giving readings in 1999, and has authored three Astrology reports for Tarot.com: Life Purpose, Mars Power and Creativity. Emily's intention is to translate the symbolic language of Astrology into comprehensible English, and to offer practical guidance and support for people to step into their highest purpose.
To her work as an astrologer she brings experience and training in energy healing: Polarity Therapy, Reiki and Flower Essences. She also has a background in process arts (writing, painting and movement), and loves assisting clients with tapping into their creativity. See virgomagic.com for details about readings.
Emily founded Portland Women Writers and leads workshops and retreats that combine Astrology and writing, using both as tools for healing, transformation and building community. She's a Virgo, with a Taurus Moon and Gemini Rising, and currently lives in Portland, Oregon.
Articles by Emily Trinkaus