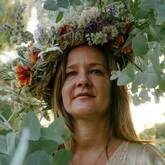 Fern Feto Spring
Virgo Sun. Aquarius Moon. Libra Rising.
Fern Feto Spring is a professional astrologer and herbalist. Practicing since 1990, she has studied with a variety of holistic teachers, including Steven Forrest, Rio Olesky, and Asata Gabriel. Fern is the co-author of Simply Sacred: Everyday Relationship Magic and has also written for The Mountain Astrologer, The Llewellyn Books Annuals, and WellBeing Magazine.
Fern has served as a teacher for all ages and holds an M.A. from Sonoma State University and a teaching credential from San Francisco State University. She's also a founding member of A Fool's Journey Retreat. Fern leads Astrology courses and communities from her home in the San Francisco Bay Area.
Follow Fern: Instagram | Website
More For Today
Weekly Love Horoscopes
Weekly Tarot Horoscopes
Monthly Horoscopes
2024 Horoscopes
Personalized Horoscopes
Birthday Horoscopes
View All Horoscopes
View Tarot Readings
Articles by Fern Feto Spring