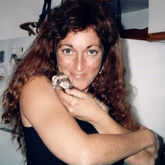 Kim Rogers-Gallagher
Contributing Astrology Writer
Kim Rogers-Gallagher has been active as an astrologer, teacher, and writer in the star biz for over 34 years. She is the author of Astrology for the Light Side of the Brain and Astrology for the Light Side of the Future, as well as a contributor for Llewellyn's calendars and annuals for many years.
Kim previously wrote the Love, Money, Health column for Dell Horoscope, in addition to penning frequent "celebrity analysis" articles for that same magazine. She was also frequently published in The Mountain Astrologer, American Astrology, and other astrological journals. She authored served on the board of ISAR (the International Society for Astrological Research) for several years, was editor of ISAR's journal, The International Astrologer, served on the steering committee of AFAN (the Association For Astrological Networking), and was President of Astrological Organizations in Portsmouth, NH, Seattle, WA, and in the breathtaking mountains near Telluride, CO.
Kim lectured internationally (all over the U.S., Canada, the UK, Europe, and Australia) both for major conferences and local groups. Kim is a 9th-house Sagittarius who loves teaching all levels and all avenues of Astrology.
Kim can be contacted for personal chart readings via email at KRGPhoenix@gmail.com or on her Facebook page.
More For Today
Weekly Love Horoscopes
Weekly Tarot Horoscopes
Monthly Horoscopes
2023 Love Horoscopes
2023 General Horoscopes
Personalized Horoscopes
View All Horoscopes
View All Tarot Readings
Articles by Kim Rogers-Gallagher