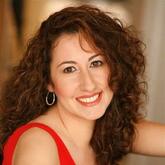 Maria DeSimone
Insightful astrologer
Maria DeSimone has created a splash in the astrological community for pioneering a successful multimedia Astrology business with heart. A professional astrologer since 2005, Maria quickly rose to the top in her field. Her exceptional ability to break down Astrology into relatable, useful information will make you thirst for more. Indeed, Maria makes Astrology contagious.
Here's how to get more of Maria!
Maria has always been drawn to the deeper realm of the human mind, the mysteries of our universe and her own personal expression. She assumed she'd end up with a career in writing or psychology. Instead, a series of events led Maria toward Astrology, where her background in psychology and love of communication are put to use daily as a counseling astrologer.
Maria's astrological writing stands out with honest, raw emotion and personal experiences that help bring Astrology to life. Her goal is to help others realize and utilize their most positive qualities, while also addressing deeper obstacles that can prevent personal growth.
Maria DeSimone is certified in Astrology and holds a B.A. in psychology, helping her blend astrological insights with real-life feelings and situations. Maria is also Vice President for the Long Island, N.Y. chapter of the National Council for Geocosmic Research, one of the leading professional Astrology organizations. You can schedule your personal consultation or sign up for one of Maria's astrology classes at her website, InsightfulAstrology.com.
Over and above her successful private practice and online Astrology school, Maria is highly regarded as an expert in the unique Astrology of women's issues, love and relationships. She is the author of the Big Picture Love Forecast, as well as the Astrologer behind the Monthly Horoscopes.
Sun sign: Taurus
Favorite color: Burgundy
Favorite food: Dark chocolate
Loves: Family and friends
Hobbies: Cooking, fine dining and exercise
Sign up to get Maria DeSimone's free Weekly Love Horoscope Email Newsletter »
Articles by Maria DeSimone