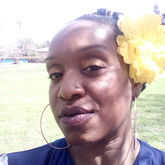 Oubria Tronshaw
Tarot expert, practical magician, and author
Oubria Tronshaw is a practical magician with a background in creative writing, philosophy, teaching, confessional journalism, Astrology, and human design.
In 2016, pregnant with her fifth child, she began studying Tarot. The underwhelming lack of representation inspired her to create the Melanated Classic Tarot Deck with artist Julia Goolsby, which they released in 2019. She didn't expect the project to become so popular, and she had to remind herself amid the uproar that she simply "created the deck she wanted to use."
In 2020, she launched the Melanated Classic Tarot Academy, an online school that teaches the meanings of the Major and Minor Arcana via their roots in Astrology. You can visit her website to learn more about the academy, as well as current and upcoming products and services, including Melanated Classic Tarot playing cards.
Oubria is from Chicago but currently lives in the Bay Area with the loves of her life.
More For Today
Weekly Love Horoscopes
Weekly Tarot Horoscopes
Monthly Horoscopes
2023 Love Horoscopes
2023 General Horoscopes
Personalized Horoscopes
View All Horoscopes
View All Tarot Readings
Articles by Oubria Tronshaw