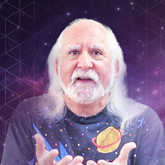 Rick Levine
Aries Sun. Cancer Moon. Gemini Rising.
A professional astrologer since 1976, Rick has long been a respected leader in the global Astrology community. He is one of the most widely published horoscope authors, has made numerous radio, podcast, and television appearances, has spoken at professional events around the world, and runs his own astrological consulting business.
Rick presents Astrology as a tool for empowerment, understanding, and creativity. He was a trustee of the Kepler College for Astrological Arts and Sciences and a two-term President of the Washington State Astrological Association. Rick continues to serve the Astrology community through events and educational resources. He is also currently involved in multiple professional associations and provides personalized astrological consultations for individuals, corporations, institutions, and non-profits from his home near Seattle, Washington.
Follow Rick: Facebook | Instagram | Website
More For Today
Weekly Love Horoscopes
Weekly Tarot Horoscopes
Monthly Horoscopes
2024 Horoscopes
Personalized Horoscopes
Birthday Horoscopes
View All Horoscopes
View Tarot Readings
Articles by Rick Levine