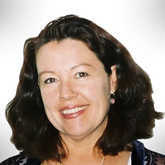 Simone Butler
Tarot.com is proud to feature articles by intuitive astrologer Simone Butler. She has 20 years of experience in helping people engage with the mystery of their lives. Her consultations are a potent mix of astrology, alchemy and sacred ritual. Easy to understand yet life-changing, Simone's interpretations of the natal chart and planetary cycles are geared toward those who seek radical insight and inspiration.
In addition to having a consulting practice with clients throughout the world, Simone has taught many astrology classes and workshops, most recently at the Learning Annex in San Diego and the Golden Door Spa in Escondido. Simone's articles have been featured in The Mountain Astrologer, The L.A. Times, New Woman Magazine and many other publications. She began her career as Fashion Editor for the California Apparel News, and has since specialized in celebrity features for various magazines. She has worked with 12 Signs, Inc. since 1992, and currently writes the daily forecasts for the Starscroll.
Simone lives in a rural hideaway in Escondido, California with her cat, Queen Bess.
For more information or to contact Simone for a reading, go to www.astroalchemy.com.
Articles by Simone Butler