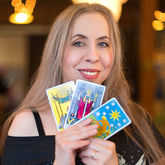 Theresa Reed
Meet the Tarot Lady
Theresa Reed, aka "The Tarot Lady," has been a full-time Tarot card reader for close to 30 years. She is the author of The Tarot Coloring Book, an illustrated tour through the world of Tarot with coloring sheets for every card in the deck. Theresa is also the author of Astrology For Real Life (A No B.S. Guide for the Astro-Curious) and the co-author of Tarot for Troubled Times with Shaheen Miro.
In addition to doing private Tarot readings, teaching Tarot classes, and speaking at Tarot conferences, Theresa also runs a popular website, TheTarotLady.com, where she dishes out advice, inspiration, and tips for Tarot lovers of all experience levels.
Follow Theresa on Twitter and Instagram for her daily "Six Second Tarot Reading," plus photos of her extremely handsome cats, TaoZen and Monkey.
More For Today
Weekly Love Horoscopes
Weekly Tarot Horoscopes
Monthly Horoscopes
2024 Horoscopes
Personalized Horoscopes
Birthday Horoscopes
View All Horoscopes
View Tarot Readings