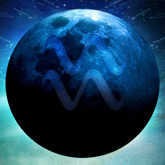 New Moon in Aquarius Horoscopes
Genius is at work during January's New Moon
The New Moon in innovative Aquarius on January 11 at 11:39 p.m. (PST) / January 12 at 2:39 a.m. (EST) opens minds to see the world from new and different perspectives. It's a time to step out of the usual mode of seeing and revise reality in more creative ways.
Original ideas may seem to be ahead of their time, making them difficult to implement right away. But these are glimpses of the future that imagination and effort can eventually turn into reality.
See how January's New Moon in Aquarius will inspire your sign!
Aries (March 21 - April 19)
This New Moon lands in your 11th House of Groups, increasing your activities in organizations and with friends. Idealistic individuals can play a big part in your life now, as they inspire you to look past personal issues to find ways that can save the world. Let your pioneering spirit soar and share it with like-minded individuals to inspire your social life and contribute to humanity as a whole.
Taurus (April 20 - May 20)
Professional matters may get a boost with the unconventional New Moon in your 10th House of Career. Bright ideas to advance your work status or start new projects may come to you more freely now. Learning how to handle more responsibility while maintaining your cool is essential, and gaining the support of friends and colleagues is needed to make this possible.
Gemini (May 21 - June 20)
Your usual urges for learning and travel could be kicked up to a higher level now. This New Moon occurs in your 9th House of Higher Mind and Faraway Places to inspire restlessness of brain and body. It's wise, though, to think about the costs and benefits of taking a journey or a class. Curiosity may be enough to motivate you, but without a practical purpose you could be wasting your time.
Cancer (June 21 - July 22)
You may encounter some unusual people or strange behavior with someone close to you. This unconventional Aquarius New Moon occurs in your 8th House of Deep Sharing, shaking up personal and professional partnerships. But if you're innovative and open to change, this event can increase your resources and free you from old and boring ways to share your time with others.
Leo (July 23 - Aug. 22)
Partnerships can take an unexpected turn with this New Moon in your 7th House of Relationships. Initiating contacts with unconventional individuals is a good way to use this encouraging lunation. It's vital, though, that you respect the rights of people to make their own choices. It takes an open mind and a cooperative attitude to cash in on the connections coming your way.
Virgo (Aug. 23 - Sept. 22)
Work could get weird or become more interesting with this New Moon in your 6th House of Employment. Changes in methods, learning different kinds of systems and dealing with unusual colleagues could be your challenges. Learning to let go of the old ways of doing business makes the difference between struggling with unfamiliar situations and recharging your work batteries.
Libra (Sept. 23 - Oct. 22)
Romance is rarely far from your thoughts, but it could become even more of a reality now. This energizing New Moon occurs in your 5th House of Amour, making you a more desirable companion. Creativity and playfulness can also serve your work life as you come up with fresh ideas that are bound to make an impact. Your charm and social skills are very likely to get you more attention now.
Scorpio (Oct. 23 - Nov. 21)
This inventive Aquarius New Moon falls in your domestic 4th House, stirring issues on the home front. Making radical changes in your physical environment is one way to add more spice to your life. But an even more powerful asset now is the potential to re-examine old family and emotional issues from a fresh perspective, which makes it possible to finally free you of old wounds from the past.
Sagittarius (Nov. 22 - Dec. 21)
Your usually fertile brain can be cooking at high heat with this lunar event. The innovative Aquarius New Moon ignites bright ideas in your 3rd House of Information. Unusual concepts reveal solutions that can help you leap over minor problems. Conversations grow livelier than ever, exciting your mind but increasing the risk of engaging in heated debates.
Capricorn (Dec. 22 - Jan. 19)
Money matters can take a positive turn with this original Aquarius New Moon in your 2nd House of Resources. But instead of plodding your way to success by putting your head down and pushing harder, the trick is to come up with alternative ways to increase your income. Thinking outside the box produces ideas that may sound strange and risky but can enhance your worth.
Aquarius (Jan. 20 - Feb. 18)
The New Moon in your idealistic sign can provoke you to be more outspoken about your beliefs. While fighting for noble causes often appeals to you, this lunation is more about personal freedom. Standing up for yourself may not always be popular, but this event isn't about winning others' approval. It's about being true to your own needs and your right to be a unique individual.
Pisces (Feb. 19 - March 20)
Getting away from it all is especially appealing with this New Moon landing in your 12th House of Privacy. You may get more done and find more satisfaction out of the spotlight than by getting the attention of others. Attending to personal needs, getting some rest and relaxation and tuning in to your spiritual side might not look productive on the outside, but it will pay off in the long run.