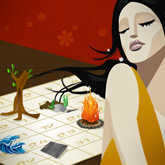 It's finally back ... the most popular Chinese Astrology report we offer!
Celebrate Chinese New Year 2013 with an Astrology 9-Star Ki Forecast Report.

That's right! With the Chinese New Year just on the horizon, we're bringing back our 9-Star Ki Astrology Forecast for just a short period of time. It's the perfect tool to use to decipher your personal predictions for the upcoming Year of the Black Water Snake -- and trust me, this year is extremely important.
So why should you care? Because Snake years bring on new revelations about ourselves and the world around us! On a large scale, this could mean coming up with a brilliant new idea or finally solving a long-standing issue. Either way, discovery is the name of the game. And this is how Eastern Astrology can help...

Just in time for Chinese New Year, we're offering our 9-Star Ki Astrology Forecast for a limited time only! Written by famed astrologer Stephanie Dempsey, this report uses your unique birth information to give you personalized, detailed predictions for the Year of the Water Snake. It's extremely precise, offering yearly, monthly and even day-by-day advice for an entire year to chart the best times to capitalize on this brilliant Snake-year energy.
Hurry before it's too late! Move forward with clarity and confidence in the Year of the Water Snake with your 9-Star Ki Forecast. And be sure to tell your friends and family members to jump on this in limited-time forecast before it's gone! You can even get this report at no cost, thanks to TrialPay.