NEW MOON: This Is Your Best Chance For...
Step forward to a whole and happy future with this New Moon!

Today's New Moon in Cancer isn't your average New Moon! According to Master Astrologer Jeff Jawer, "Now is an opportunity to be freed of whatever negative aspects are surrounding your life." But while we all want to change for the better, the work associated with it is often much easier to avoid.
Lucky for you, this New Moon is here to give you a fresh perspective that will make change easy for you! In the nurturing sign of Cancer, it's all about taking care of yourself and letting things go to create a more fulfilling future. Personal growth doesn't need to be hard -- you just need help with the details.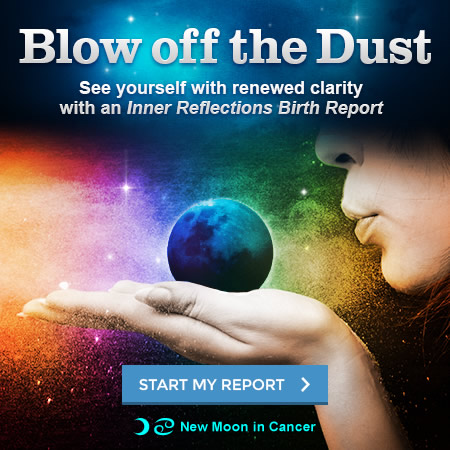 A personalized Inner Reflections Birth Reportbreaks down your entire Astrology chart from a psychological perspective. It points out the planetary influences that make some things easy and other things harder for you. You'll learn which obstacles are worth ignoring, and where to direct your energy to make the most positive change in the easiest ways.
Use the nurturing energy of this Cancer New Moon to let go and create a whole and happy future. Get your personalized Inner Reflections Birth Reportnow, or get this profound psychological insight at no cost through TrialPay.