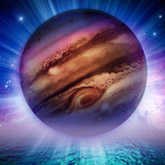 Your Luck Changes Today
Find new happiness at home with Jupiter in Cancer

Today's your lucky day! Jupiter, the planet of prosperity and abundance, is moving into caring Cancer for a year-long stay. Get ready, because Jupiter in Cancer can bring new opportunities for happiness and security through your home and family life!
Jupiter changes zodiac signs about once a year, but the lucky planet is strongest while in Cancer -- where it won't be again until 2025! Right now Jupiter has the potential to bestow many blessings. But before you can realize this good fortune, you need to find out how Jupiter powers you personally. Here's how.

Understanding what role the fortune planet plays for you is what the Jupiter's Promises report is all about. Not only does this report show you how to direct your life down a more joyful life path, but it also reveals the dates of your "Jupiter Returns" -- the major milestones in your life that you can seize to change your luck!
You're now in a position to receive good fortune with Jupiter in Cancer, but good luck doesn't just come out of nowhere. You have to put yourself in a position to receive it. Do that with help from a Jupiter's Promises report!