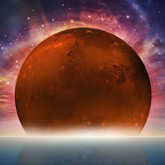 Mars and Neptune want you to take action right now!
Find out how you can achieve your dreams while Mars in Pisces conjuncts Neptune

Something special is happening right now! Mars just moved into Pisces and it's making a rare and welcome conjunction with Neptune, also in Pisces. This type of planetary connection doesn't happen very often, and that's why everyone wants to know what it means to them. Let me explain...
If Mars represents "Action" and Pisces represents "Dreams," then it would be easy to assume Mars + Pisces = "Start Dreaming." Nope! At least not today. Why? Because this added conjunction with Neptune in Pisces is giving us superhero strength to actually stop dreaming and start DOING! This cosmic turn of events is going to make it easier to tap into our personal power, but not without a little help...

Accomplishing great things means understanding what and where your personal power comes from. The Mars Power report is a personalized Astrology report that specifically studies the placement of Mars, the warrior planet, in your chart. It reveals where your inner strength, courage, passion and individuality comes from. Most importantly, this report tells you how to tap into this power to make great thing happen.
With Pisces-powered Mars conjunct Neptune, you have a short window of opportunity to use the Mars Power report to realize your dreams and change your life! You can also get this report for no charge thanks to TrialPay.