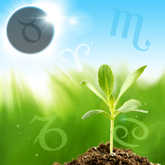 Weekly Astrology: April 27 to May 3, 2014
Bright new beginnings are finally here!

This week will host another eclipse. Unlike the one two weeks ago, however, there is much kinder energy in the sky.
Be assured that brighter days are finally just around the corner! Read on about the new beginnings in store for you.
See what's going to happen in your near future with a Timeline Tarot reading, and here's the lowdown on the key cosmic events the week of April 27 to May 3, 2014.
Sunday, April 27: Sun in Taurus sextile Neptune
On Sunday, the Sun in Taurus will be at a friendly angle to Neptune. This will be a glamorous and even hypnotic aspect that allows you to display yourself in the most charming way possible.
Tuesday, April 29 and Wednesday, April 30: Solar Eclipse in Taurus, Mercury in Taurus trine Pluto in Capricorn, Mercury in Taurus sextile Jupiter in Cancer
On Tuesday, the good news gets even better, thanks to a perfect New Moon Solar Eclipse in Taurus. This eclipse will promise a fresh start in areas of finance and your self-worth concept. This time around, the eclipse will be surrounded by nothing but supportive communication links.
Mercury will trine Pluto on Tuesday, and then sextile Jupiter on Wednesday. You can't ask for a better lineup to help you plant seeds of promise into the ground. Your voice will be commanding yet inspirational, and it'll be easy to communicate to others just how indispensable your talents are.
Friday, May 2: Mercury in Taurus opposite Saturn in Scorpio and Venus in Aries
On Friday, there may be a stint of self-doubt, but it'll quickly pass. With Mercury in Taurusopposing Saturn you may need to rework an idea or be forced to listen to harsh criticism from an authority figure. Take what is worthwhile and discard the rest. Trust your judgment to know the difference.
Also on Friday, love planet Venus enters Aries, where she'll remain until May 28. A passionate, excitable romantic nature will be the rule rather than the exception now. And when it comes to love, you'll really enjoy the thrill of the chase!
Saturday, May 3: Sun in Taurus trine Pluto in Capricorn
On Saturday, with the Sun trine Pluto, you'll know that you've come into your own. Bask in the glory of your power. You've earned it!
See what's going to happen in your near future with a Timeline Tarot reading now »