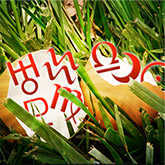 Weekly Astrology: August 19-25, 2013
Don't count your cosmic chickens before they hatch

Are you pushing your luck this week? Quite possibly. A confluence of fascinating aspects in the cosmic sky suggests both faith in placing a bet, then losing big, and having to pay the piper because of it. Forewarned is forearmed.
See what's in store for you personally with a 30-Day Astrology Forecast, and here's the lowdown on the key cosmic events the week of August 19-25, 2013.
Tuesday, August 20: Full Moon in Aquarius
We begin on Tuesday with a Full Moon in eclectic Aquarius. If this sounds familiar, it is. Only last month we had a Full Moon at 0 degrees Aquarius and now we're having a second one -- at the 28th degree of the sign. This suggests a month-long cycle of culmination and fulfillment regarding Aquarius-ruled matters.
Your social life is up for major change now, and this lunation could bring the grand finale to whatever culminating events began last month. Working on a humanitarian, group or technology-related endeavor? Now you'll see the fruit of your labor.
Wednesday, August 21: Jupiter square Uranus
On Wednesday, capacious, pie-in-the sky thinking is possible, thanks to Jupiter's square to Uranus. High hopes are great, but try to remember that you need a lot more than lightning bolts of faith to make things happen.
The good news is that an expansive urge to reach for personal liberty now simply can't be ignored. As a result, you'll feel ready to experiment and experience something new and exciting. Jupiter-Uranus contacts are also known as "the lottery aspect," due to its potential for sudden windfalls. Just don't bet the farm, because not only is this a square (conflict), later in the week Venus (the planet of money) will square off with Pluto, suggesting financial losses rather than gains.
Thursday and Friday, August 22-23: Sun and Mercury in Virgo
On Thursday, the Sun enters Virgo, followed by Mercury on Friday. This discerning energy will make us keenly aware of our flaws, as well as the imperfections all around us. Expect to feel more productive and efficient, but also more critical. Your motto might become "If you want something done right, do it yourself," as you'll have little faith in others being as on point as you when it comes to completing tasks.
Also, with Virgo energy making its presence known, your mind might focus more on health matters. Now is the time to schedule a doctor appointment, hire a personal trainer or nutritionist, read up on the latest trends in health, and fitness or even do medical research. Mercury will be in Virgo until September 9.
Saturday, August 24: Venus in Libra square Pluto and Sun conjunct Mercury
If you notice your love life has reached a point of tension this week, things will likely come to a head by Saturday when the Venus square Pluto aspect is exact. Cardinal signs (Aries, Cancer, Libra and Capricorn) will feel this tension most, and you might decide that a relationship is more of a struggle than it's worth.
Alternatively, you may try to hold on to someone for dear life. Ask yourself if you're holding onto anything of substance. Pluto demands nothing less.
Sunday, August 25: Mercury opposite Neptune
Before your mind enjoys the razor sharp precision of Virgo, however, it'll have to contend with the opposition Mercury will make to hazy Neptune first. That's right -- on Sunday, Mercury will be at odds with the planet of idealism and confusion, making it a weekend to avoid any vital decisions or conversations.
Information might be missing or you could just be too far away in "la la land" to notice it. Rest assured however that after the weekend is over, Mercury in Virgo will leave your mind sharper than ever!
Don't forget to take a peek at your month ahead with our 30-Day Astrology Forecast »