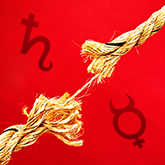 Weekly Astrology: August 4-10, 2014
Tension is on the rise!

There's no shortage of cosmic activity this week. Although the atmosphere may start off feeling idyllic, there will be plenty of tension to navigate by the weekend.
See what's in store for you personally with a Horoscope Tarot reading, and here's the lowdown on the key cosmic events the week of August 4-10, 2014.
Thursday, August 7: Mars in Scorpio trine Neptune
On Thursday, energetic Mars in Scorpio will be at a perfect trine to mystical Neptune, allowing imagination to fly. This is the ideal aspect to engender inspired action, so whatever dream you may have, now is when you want to make it happen.
Friday, August 8: Sun conjunct Mercury in Leo; Sun and Mercury trine Uranus; Mercury square Saturn
Be sure to act before Friday and Saturday, because that's when the planets will be extra cranky. Early on Friday, the Sun and Uranus will both be at a happy angle to Mercury in Leo, so you will have an opportunity to get your brilliant ideas out there. The trouble is you'll need to act fast, because by the evening Mercury will square off with Saturn, and it'll feel like no one is listening.
Saturday, August 9: Sun square Saturn
On Saturday, the Sun will square Saturn in Scorpio, bringing more feelings of restraint your way. Someone in authority might force you to be responsible at the expense of your weekend fun. Or, you might pay the piper for any reckless action you took earlier in the week.
Sunday, August 10: Full Moon in Aquarius
On Sunday, a Full Moon in Aquarius will allow you to focus on an important humanitarian matter. You'll be thinking about the greater good, which will allow you to make a world of difference where it matters most in your community. On a personal note, a friend might need your emotional support. Be there.
Get more personal advice about life and love with a Horoscope Tarot reading »