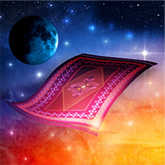 Weekly Astrology: Dec. 2-8, 2013
Hop on for a magic carpet ride this week!

High hopes, false hope ... the lines between inspiration and delusion become blurred this week. Which road will you take?
See what's in store for you personally with a 30-Day Astrology Forecast, and here's the lowdown on the key cosmic events the week of Dec. 2-8, 2013.
Monday, Dec. 2: New Moon in Sagittarius
On Monday, there is a stunning New Moon in Sagittarius that will prompt all of us to take a leap of faith in a certain area of our lives, or at the very least a magic carpet ride.
Where in your life do you have your sights set for a visionary, mind-expanding change? That's the part of your life this New Moon will encourage you to pursue! Remember, the glass is half full now, so don't let anyone stop you!
Tuesday, Dec. 3: Mercury in Scorpio sextile Mars in Virgo
On Tuesday, Mercury in Scorpio will be at a fortunate angle to Mars in Virgo, allowing us to put our actions where our mouth is in a practical way. This is a day to execute plans instead of merely talking about them. Don't waste it!
Wednesday, Dec. 4: Mercury in Sagittarius
You'll need to act fast, because Mercury will enter Sagittarius on Wednesday, where he'll remain until December 24. During the next couple of weeks you can expect thoughts to be tied to opinions and people taking many more moral stances than usual.
You'll debate passionately about whatever it is you believe, which can be a remarkable trait. Just don't talk so much that you forget to listen to other people's perspectives. Everyone is entitled to their opinion -- even if you don't agree.
Friday, Dec. 6: Mercury square Neptune
The real red flag this week will occur on Friday, when Mercury will square off with Neptune. Astrologically, this connection is just filled with ickiness. We're talking about minds being drowned in quicksand while ideas are muddled and communication is bewildering.
Neptune will lead Mercury into a very uncomfortable haze, and this will not be the time to sign contracts, make vital decisions or a promise to someone. You may not have all the information you need. At its worst, someone may be trying to dupe you and you won't even see it coming.
A better use of this energy is to plan for a day of mystical or spiritual pursuits. Or, you may want to attend a concert or an art show instead.
Saturday, Dec. 7: Mars in Libra
On Saturday, Mars, the planet of action and energy, will move into a sign he's quite uncomfortable in -- compromising Libra. Mars prefers to fight, to chase, to kill and to push forward independently. Libra, on the other hand, prefers to make nice and collaborate.
Therefore, Mars in Libra is not an easy combination. The planet of action is forced to act in a way that he doesn't like -- by partnering up and compromising. The good news? Mars will be in Libra for an unusually long time -- until July 2014!
At least this gives you an opportunity to learn how to fight fairly with others and to lead by example. Good luck!
Don't forget to look at your month ahead with a personal 30-Day Astrology Forecast »