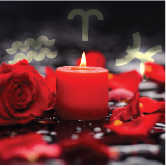 Weekly Astrology: February 16-22, 2015
Get ready for the sexiest day of the year!

There's plenty of "dream come true" and sexy potential in this week's cosmic line up!
See what's in store for you personally with a Weekly Forecast Tarot reading, and here's the lowdown on the key cosmic events the week of Feb. 16-22, 2015.
Wednesday, Feb. 18: New Moon in Aquarius and Sun in Pisces
On Wednesday, a New Moon in the very last degree and minute of Aquarius has the potential to be the ultimate manifesting machine. Use this lunation to set your intentions on your absolute greatest hopes and wishes … and then watch what happens. The Sun enters dreamy Pisces on the same day, reminding you to make time to connect with your spirit. You may choose to do this through imaginative pursuits or your faith.
Thursday, Feb. 19: Mercury sextile Saturn and Mars in Aries
On Thursday, Mercury, now direct, will be at a friendly angle to Saturn. There is great staying power to your mind, and all the decisions you make look favorable. If you sign a contract now, or if you make any agreement, expect it to last for a long time.
Also on Thursday, Mars enters his home sign of Aries, where he'll remain until March 31. This will be a dynamite time for you to make just about anything happen. You'll have more pioneering spirit and courage than you'll know what to do with. Whatever you start now has amazing success potential, so get to it!
Friday, Feb. 20: Venus in Aries
On Friday, Venus enters Aries, and she remains there until March 17. Matters of the heart become palpable, and now you'll make your wants known to your love without hesitation. Your motto about love may come straight from Marilyn Monroe's famous quote: "I'm selfish, impatient and a little insecure. I make mistakes, I am out of control and at times hard to handle. But if you can't handle me at my worst, then you sure as hell don't deserve me at my best."
Sunday, Feb. 22: Venus conjunct Mars in Aries
On Sunday, Venus and Mars engage in a steamy conjunction. HOT is an understatement. This might be the sexiest day of the year!
See what's in store for you personally with a Weekly Forecast Tarot reading now »