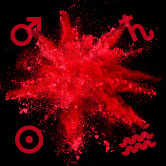 Weekly Astrology: January 16-22, 2017
Clash of the titans

This week is simple but powerful. Opposing energies go head-to-head, putting you a situation that may feel like you're being pulled in different directions. Keep reading to see how to ride the wave of this week's energy...
Get personal advice for every day of this week now with a Weekly Forecast Tarot reading.
Thursday, January 19: Mars square Saturn; Sun enters Aquarius
On Thursday, Mars will square off with Saturn. This is a classically frustrating combination since Mars wants to move fast, and Saturn demands that you slow down and not rush. As these two opposing forces collide in a maddening square, the conflict between what you want to do and how you need to do it (so that it will be successful) can be quite frustrating. Do your best.
On the same day, the Sun will enter Aquarius allowing you to shine a light on your more eccentric, original, and humanitarian spirit.
Friday, January 20: Venus sextile Pluto
Then, on Friday, Venus will sextile Pluto making love and financial matters empowering, fulfilling, and transcending.
Get your Weekly Forecast Tarot reading for day-by-day advice »