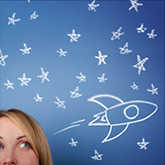 Weekly Astrology: Jan. 26 to Feb. 1, 2014
Dare to be different this week

Expect to assert your individuality in the most "in-your-face" way this week. Thankfully, it'll be well received, and even understood by others, because it's likely everyone else will have their avant-garde hat on, too. The big news this week, however, is that Venus will turn direct after having been retrograde since December 21.
See what's in store for you personally with a Weekly Forecast Tarot reading, and here's the lowdown on the key cosmic events the week of Jan. 26 to Feb. 1, 2014.
Wednesday, Jan. 29: Sun in Aquarius sextile Uranus
On Wednesday, the Sun in Aquarius will be at a friendly angle to Uranus, amplifying the "weird" vibes for everyone. While it's true that sometimes Sun-Uranus energy is prone to erratic, rebellious behavior, that won't be the case this time around. In fact, it's unlikely that anyone will scoff at you for daring to be different.
Thursday, Jan. 30: New Moon in Aquarius
What makes this even more remarkable is that Thursday's New Moon in Aquarius will offer an opportunity to launch a personal endeavor that has "innovation" written all over it. What is your greatest aspiration? This is the New Moon to wish upon if you want it to come true.
Of course, it'll take more than a wish to make your dreams come true, but if you plant the seeds of intention following this lunation you'll have a pretty good head start. In addition, if you're considering launching a new website, social media page or even your very own YouTube channel or webinar series, this will be the New Moon to assist you.
Friday, Jan. 31: Venus Direct, Mercury in Pisces, Jupiter opposite Pluto
Even with all of this electrifying energy in the air, the headline news won't arrive until Friday, with Venus Direct in Capricorn. Venus Retrograde lasted more than a month, but now Sleeping Beauty is finally awake, and although she may be groggy for a few days, you can count on her powers as the lesser benefic of the zodiac to return shortly.
Matters of the heart and money, as well as your self-worth concept, have all undergone a weighty revision over the last few weeks. Now it's be time to implement what you've learned. With Mercury entering Pisces and a potent Jupiter-Pluto opposition on the same day, you'll have the ability to make anything happen, and the conscience to assure you're using your power for good.
See what's in store for you personally with a Weekly Forecast Tarot reading now »