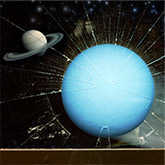 Weekly Astrology: July 1-7, 2013
Planets behaving badly!

Ugh, sorry folks, there's not much of a silver lining in the cosmic sky this week … at least not until the weekend. Brace yourself for a rocky few days as many of Astrology's key planets act up!
See what's in store for you personally with a 30-Day Astrology Forecast, and here's the lowdown on the key cosmic events the week of June 24-30, 2013.
Monday, July 1: Venus in Leo square Saturn in Scorpio
Venus is in playful, amorous Leo these days and she just wants to have fun! It's all good, except this Monday Saturn will cross her path like a militant no-nonsense father and bring happy little Venus right down.
Pleasure does not come easy with Venus square Saturn. In fact, it usually doesn't show up at all. When Saturn is in an edgy aspect to a planet it acts like a wet blanket over the planet's energy it touches. Saturn demands sobriety and responsibility. Saturn is discipline and commitment, and this will harsh the mellow right out of Venus in Leo.
When it comes to financial matters, you may feel a pinch because Venus in Leo will whisper in your ear, urging you to make an extravagant purchase. But the square to Saturn in Scorpio will either make you realize your credit is maxed out or that if you go ahead and drop an obscene amount of money on a luxury trip you might not be able to meet your next mortgage payment. Ah, the frustrations of being a responsible adult.
In your love life, you might feel rejected if you try to share your feelings with someone near Monday. Better to wait until the weekend because by then love will be divine!
Monday, July 1: Sun in Cancer opposite Pluto in Capricorn
The Sun in Cancer will oppose Pluto late Monday, and this suggests a tense power struggle between a domestic situation and your professional goals. You might also rub elbows with one of the "elders" in your clan during this time, and if so you might want to do your best to remain respectful … even if you're not in the wrong. The trouble with Sun-Pluto is that everyone wants control and with so many people vying to be in the driver's seat, no one wins.
As you can expect, Monday is shaping up to be a stressful day and it's likely this will all come out at the office. You may feel unappreciated and pushed around by your superior. Do your best to turn the other cheek and focus on your tasks. An angry confrontation on Monday will likely leave you vulnerable.
Thursday, July 4: Sun in Cancer square Uranus in Aries
By Thursday there's unexpected energy in the air -- and we're not talking about the Fourth of July fireworks. This is due to the Sun squaring off with Uranus, the planet of sudden events. With the Sun in nurturing Cancer and Uranus in self-motivated Aries, an impulsive decision on your part will likely seem quite selfish to others.
Of course, you might also be the one scratching your head wondering what the heck got into a loved one on this day. It's truly an "every man for himself" energy, and when that happens teamwork will be difficult. You can use this aspect to develop your inventive side, and you may also make a snap decision that will change the course of your life plan. Just keep it to the thought phase if possible and hold off on any action until you've had more time to weigh the pros and cons.
Sunday, July 7: Venus in Leo trine Uranus in Aries
By now you're probably ready to call the entire week a wash. Don't lose hope! In fact, your weekend will more than make up for any stress you endured Monday-Friday. You can thank a brilliant trine between Venus and Uranus. When Uranus is stressfully aspected he tends to get us into all sorts of trouble, but when he's aspected nicely, he'll give us a taste of sudden pleasure and excitement.
This weekend you can expect that exciting jolt in your love and social life. Attend a party, hang out with a crowd that stimulates you or accept a first date with someone who typically isn't your type. A pleasant surprise is in store.
Watch your Insightful Astrology Weekly Video Horoscope now »