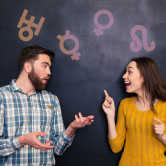 Weekly Astrology: July 11 - 17, 2016
A way with words

It's time to use restraint with your communication, or you could regret it later! See how to make it through the week with all the Astrology below...
Monday, July 11: Mercury square Uranus
The week begins on a chaotic note as Mercury squares off with Uranus on Monday. You may want to put some imaginary (or literal) tape over your mouth to prevent you from blurting out something you'll later wish you hadn't.
Get day-by-day advice for THIS week with a Weekly Forecast Tarot reading now!
Tuesday, July 12: Venus enters Leo
On Tuesday, Venus enters Leo where she'll remain until August 5. Love becomes larger than life with incredible romantic opportunities!
Wednesday, July 13: Mercury in Leo
Mercury enters Leo on Wednesday, and until July 30 you'll speak with such flair that no one will be able to resist your words!
Saturday, July 16: Sun square Uranus; Mercury conjunct Venus; Sun trine Mars
Then, on Saturday the Sun is square Uranus and trine Mars while Mercury and Venus are conjunct. You'll need to assert your independence, but this time you won't be as reckless, thanks to Mars supporting -- rather than aggravating -- the situation. And you'll sound incredibly charming in the process!
Get a Weekly Forecast Tarot reading for a more personalized look at your week »