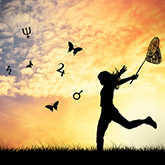 Weekly Astrology: July 15-21, 2013
Faith and inspiration are in the stars this week!

Trines, trines, everywhere this week! A rare and beautiful configuration called a Grand Trine will dominate the sky. Read all about this gorgeous alignment and how it will soften the rough edges for all of us this week.
See what's in store for you personally with a 30-Day Astrology Forecast, and here's the lowdown on the key cosmic events the week of July 15-21, 2013.
Wednesday, July 17: Jupiter trine Saturn and Neptune
First up: Wednesday's Grand Trine in Water signs. Jupiter, the planet of expansion and abundance, will connect perfectly to both Saturn and Neptune. Then, on Friday Saturn will trine Neptune. Last, but not least, on Saturday Mars will continue the fun as he trines both Saturn and Neptune as well. So what does this mean?
In a word: Bliss.
Jupiter will expand anything it touches, and this week he's touching a perfect link between stabilizing Saturn and dreamy Neptune. We all have a grand opportunity to materialize one of our highest ideals -- to the 'nth degree!
If there was ever a week to dream the impossible dream, this is it. In addition, we'll all experience a sweet sensitivity thanks to the infusion of Water signs connecting. Intuition will run high, and you can definitely trust your gut as you make decisions over the next week.
Also, spiritual attunement will be incredible. If you wanted to start meditation classes, take a retreat, have a conversation with a spiritual advisor or psychic, or even participate in a prayer group, this will be the time to do so. You will likely experience a true moment of enlightenment.
Wednesday, July 17: Uranus Retrograde
Also on Wednesday, if you needed a nudge from the Universe to do your own thing, consider Wednesday another blessing. Uranus will station retrograde.
When this happens we tend to feel an electrifying jolt on the inside out that prompts us to go ahead and express our individuality. We'll yearn to be free and the urge for autonomy will be reawakened in a profound way.
If you're feeling restricted in an area of your life, this is the precise place you'll want to rebel now. One word of caution: If you act, you might overdo it. The instability of Uranus changing direction is certainly something to consider. Remember not to be reckless in your quest for freedom.
Friday, July 19: Saturn trine Neptune
On Friday the link between Saturn and Neptune is exact, and then there's an extension of this brilliant energy through the weekend as Mars in Cancer takes a turn connecting to Saturn and Neptune.
With Mars in the picture, it'll be easy to take action in making that dream come true or working on the creative project you plan.
Saturday, July 20: Mercury Direct and Mars trine Neptune and Saturn
In addition, on Saturday Mercury will turn direct in Cancer. While this might be a tricky transition, creating a little bit of mental mist, ultimately we'll begin to trust the newfound perspective gained during this week of extraordinary spiritual enlightenment potential.
Yes, it is true that decisions might be slightly idealistic now and your plans a little grander than usual. But hey, if you don't believe in the potential of your dreams, who else will?
Overall, however, this week will be one for the Astrology record books. Dream BIG. Faith and inspiration will be everywhere.
Watch your Insightful Astrology Weekly Video Horoscope now »