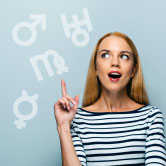 Weekly Astrology: July 25 - 31, 2016
Flashes of brilliance

It's time to focus this week and utilize your mind and innovative ideas to enrich your life! Keep reading for all the details...
Wednesday, July 27: Mercury trine Uranus
On Wednesday Mercury will trine Uranus, allowing you to go with your first instinct if you have any vital decisions to make. This will also be a great time to brainstorm ideas and work on any of your grand plans or inventions. The more original, the better!
Friday, July 29: Mercury square Mars; Uranus Retrograde
On Friday, Mercury will square Mars and Uranus turns retrograde. You might have a major lightbulb moment on this day, but unfortunately, you might also share it at the wrong place and time.
You might also have to deal with angry words at every turn on this day. Be aware of road rage and people who just want to pick a fight with you because they are having a bad day themselves. Don't feed that wolf!
Saturday, July 30: Mercury enters Virgo
Then on Saturday, Mercury enters Virgo and your mind will focus on all those details you've been happily forgetting up until now. It's time to clear out any mental or literal cobwebs in your life.
Cut through the confusion in your life! Find clarity for what's next with a Timeline Tarot reading now.