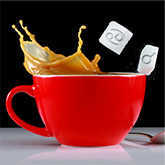 Weekly Astrology: July 29 to August 4, 2013
Pucker up: This week is sweet and sour!

Deep, flawless, structured, nurturing love. Don't we all to a certain extent dream of such a thing? Well, this week you're in luck because, astrologically speaking, it's well within your grasp. Adding to the sublime, we'll also have a twist of Uranus just to balance out the perfection. It's a mix of sweet and sour, but by the end of the week you'll be the star of the show!
See what's in store for you personally with a 30-Day Astrology Forecast, and here's the lowdown on the key cosmic events the week of July 29 to August 4, 2013.
Tuesday, July 30: Venus in Virgo trine Pluto in Capricorn
On Tuesday, Venus in discerning Virgo will be at a perfect trine to Pluto, the planet of depth and transformation, now in Capricorn. With this connection your life can be permanently and positively altered by love.
An ability to surrender and reveal yourself not only in a physical, lusty way but also a soulful way is now possible. When it comes to money, this will be an incredible day for a business deal because these earthy, pragmatic signs will focus with razor sharp precision on BIG money.
Wednesday, July 31: Mars square Uranus
On Wednesday, Mars will square Uranus and there might be an "ouch" factor in the air. Your drive to achieve comfort and security (Mars in Cancer) will be thwarted, quite possibly by yourself, as you recklessly get in your own way. Avoid any hasty action or frazzled reactions to situations on this day because this is the classic "accident waiting to happen" aspect.
In particular, household-related accidents are possible because Mars is in domestic Cancer now. Burns when cooking (or pouring coffee) are more likely. Burning yourself while ironing is possible -- anything you can think of that combines household stuff (Mars in Cancer) and fire or electricity (Uranus in Aries) is something to watch for on this day.
Now, don't get yourself paranoid, because obviously not everyone in the world will plug in their toaster and receive an electric shock. Still, the point is that rushing to complete a household task while aggravated about something else is possibly a trigger point when Mars is square Uranus on this day.
The solution? Channel your inner zen and slow down!
Friday, August 2: Venus sextile Mars
By Friday, Venus in Virgo and Mars in Cancer will engage in a gorgeous embrace, restoring peace, love and harmony to the world (and your kitchen). Don't forget, when the cosmic lovers are in sync romance is exceptionally sweet.
Aren't we all lucky that this aspect peaks on Friday to help jumpstart what promises to be a gorgeous weekend for amore? Earth and Water signs will benefit most from this sexy link, but don't worry, even if love isn't in the cards for you on Friday you can rest assured a delicious meal prepared to perfection will be.
Sunday, August 4: Sun trine Uranus
Then, on Sunday the Sun will feel a positive jolt from Uranus, opening up plenty of marvelous, entertaining fireworks potential for all. With the Sun in flamboyant Leo and Uranus (excitement and innovation) in Aries, this will be an ideal time to get your creative freak on.
Remember that all the world's a stage and on Sunday you'll definitely be the star of the show!
Watch your Insightful Astrology Weekly Video Horoscope now »