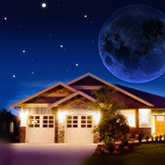 Weekly Astrology: July 8-14, 2013
Home is where your heart is this week

There's plenty happening this week in the realm of family, real estate and domestic news. However, in the midst of planting the seeds from Monday's Cancer New Moon, we'll need to navigate past the trickster's energy.
That's right -- Mercury is still retrograde in Cancer. Confused? Don't worry, so is everyone else.
See what's in store for you personally with a 30-Day Astrology Forecast, and here's the lowdown on the key cosmic events the week of July 8-14, 2013.
Monday, July 8: New Moon in Cancer
On Monday we'll have a gorgeous New Moon in Cancer, the zodiac sign of tender emotion and nurturing. We'll all have a brilliant opportunity over the coming days to plant seeds around a domestic decision, move or family endeavor that promises incredible growth potential.
The only fly in your cosmic ointment, however, is that Mercury will be retrograde close to the degree of the New Moon. Does that mean your New Moon potential is negated? Not at all.
In fact, what's likely to happen is you'll have a new insight about a domestic matter that's confounded you recently. You might even get a second chance when it comes to forging a closer emotional bond with someone in your clan. There may be a revision around plans or plenty happening with a sibling or even in your neighborhood because Mercury rules both.
Monday, July 8: Saturn Direct in Scorpio
Also on Monday, Saturn will turn direct after having been retrograde since February 18. Now that Saturn will move forward again in Scorpio we can materialize any strategic business ideas we've been mulling over lately. Try to hold off on signing contracts relating to them until after July 20 when Mercury turns direct. Still, with Saturn moving forward all business matters will see an incredible boost -- particularly in the area of insurance, banking and finance.
Tuesday, July 9: Sun conjunct Mercury Retrograde in Cancer
The Sun will connect with Mercury Retrograde in Cancer on Tuesday, offering even more of a highlight when it comes to family decisions. If you've made a difficult choice about a home or real estate matter recently, this is the day you'll gain clarity about the potential ramifications behind it.
The best part? With the New Moon energy you'll also be able to let go of what you can't change about this matter. Remember, there's no point in stressing out about things that are out of your control. It does appear there will be at least one significant family situation this week that fits the bill.
Saturday, July 13: Mars in Cancer
There's even more domestic energy in store by Saturday, when Mars enters Cancer to stay until August 27. Mars in Cancer is motivated to attain family and emotional security and he will do whatever it takes to get there. Mars in Cancer will fight for his clan, and you may notice a more protective vibe for those in your family you feel are in need of caretaking.
In addition, during the time Mars is in Cancer you'll have plenty of stamina to attack a do-it-yourself project around the house. Be sure to pick up that hammer and get to work on any renovation you've wanted to do -- this will be a great way to channel any anger that may arise from a potential domestic conflict that Mars (the warrior planet) aggravates during this time.
Overall, there may be a delay in your New Moon promise because Mercury will be retrograde at the time of this lunation. Still, you can be certain that once Mars passes the degree of this lunation (16 degrees Cancer) on August 6 that whatever you've planted in terms of domestic potential will sprout wildly. Plan accordingly.
Watch your Insightful Astrology Weekly Video Horoscope now »