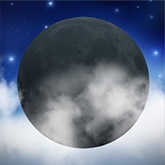 Weekly Astrology: March 11-17, 2013
Let the New Moon in Pisces lift your spirits

Inspiration returns this week as the uplifting New Moon in Pisces puts us in a creative and romantic mood, and mighty Mars marches into fiery Aries. By week's end, when Mercury turns direct, we'll be ready to charge ahead at full speed!
See what's in store for you personally with a 30-Day Astrology Forecast, and here's the lowdown on the key cosmic events the week of March 11-17, 2013.
Monday, March 11: New Moon in Pisces
Looking for a little encouragement? Well, you're in luck because this week we're blessed with the most inspiring New Moon of the year. On Monday we'll enjoy this lunation in the sensitive, ethereal sign of Pisces. If you've been running low on faith, this New Moon in Pisces is about to lift your spirits in the most incredible way.
Over the next two weeks you'll have an opportunity to extend your compassionate side in a way that you find incredibly gratifying because it'll allow you to truly make a difference and help others. You may also be the beneficiary of such kindness if you're the one in need, and if so it will surely renew your faith in mankind.
If you've been thinking about exploring your spirituality in a new way, now is the time. This New Moon opens the door for you to believe in all that you cannot see, taste, touch, hear or smell, but you know in your heart is there.
You might also find yourself more intuitive than usual. That's right, Pisces is known as the psychic sponge of the zodiac, and as a result you might have at least one unforgettable precognitive experience. Pay special attention to your dreams over the next couple of weeks and consider keeping a journal of any that stand out. They might hold an important message that you'll decipher in the days ahead.
If you long for more privacy than usual, honor this need. With a New Moon in Pisces, solitude might be the only way to separate your feelings from someone else's. You'll be especially sensitive to the moods of others, and as a result you'll be much more impressionable than usual.
Time alone can be healing and open the door to an inspiring personal experience. Now is the time to let your imagination soar and indulge in any type of artistic pursuit you enjoy. Whether it's music, art, painting, photography or anything in between doesn't matter. Your muse is calling and it's time to listen!
Tuesday, March 12: Mars in Aries
While you might feel more watered-down than usual with this strong Pisces New Moon, on Tuesday there's a shift in the cosmos that will motivate you to chase your ambitions in the most pioneering, courageous way. Mars, the planet of action and assertive drive, will enter Aries -- the sign it naturally rules. With Mars in Aries until April 17, you'll have an extraordinary ability to make anything happen. Passion will be aroused, and whatever gets you heated up will need to be pursued. This can be a project or a person -- possibly both!
The only caveat with Mars in Aries is the tendency for impetuous, risky behavior. In addition, you might be short on patience -- and so will everyone else around you. This will become more of a problem next week, but for now heed the warning and make sure you don't jump out of the proverbial airplane without a parachute. This type of behavior doesn't make you brave -- it makes you foolish.
Sunday, March 17: Mercury Direct
Finally, Mercury will turn direct on Sunday, which is also St. Patrick's Day, and in the days following you'll see all of the communication haze begin to clear. You'll be happy to know that if you didn't file your taxes yet, or if you had any other frustrating delay with important contracts and negotiation during Mercury Retrograde, you'll be good to go after Mercury has regulated his orbit.
You might also find that the best of Monday's New Moon in Pisces potential happens after Mercury turns direct because Mercury also happens to be in Pisces. Either way you'll have a penchant for being more of a dreamer this week, thanks to the lovely Pisces energy. Thankfully, with Mars in Aries in the mix this time around you'll also be a doer.
Watch your Insightful Astrology Weekly Video Horoscope now »