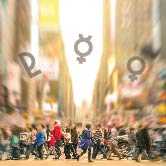 Weekly Astrology: March 16-22, 2015
This action-packed week will make you feel alive!

This week we have the seventh and final Uranus-Pluto square, a bunch of Mercury aspects, Venus changing signs, and a Solar Eclipse. You will not be bored…
See what's in store for you personally with a Weekly Forecast Tarot reading, and here's the lowdown on the key cosmic events the week of March 16-22, 2015.
Monday, March 16: Mercury square Saturn and Uranus square Pluto
On Monday, Mercury in Pisces will square off with Saturn, making it difficult to get your ideas across to others in the way you'd prefer. Still, if you focus and use the energy to master clarity then you'll formulate an unstoppable plan.
Also on Monday, Uranus and Pluto will lock horns in the seventh and final exact square since 2012. The major revolution that Cardinal signs have experienced will see a grand finale over the next few months. With Uranus square Pluto, this may not be an easy day, but you'll want to pay attention to how it leaves you feeling. Ultimately, it should make you feel alive.
Tuesday, March 17: Venus in Taurus
On Tuesday, Venus will enter her home sign of Taurus, where she remains until April 11. With Venus in Taurus, you can expect a welcome boost in using the practical side of Venus to your advantage. Financial decisions are favored, as well as any aspect of romance that connects to your sensual side.
Wednesday, March 18: Mercury conjunct Neptune
Then, on Wednesday, Mercury will connect to Neptune, asking you to focus more on imaginative pursuits than "left-brained" activity.
Friday, March 20: New Moon Solar Eclipse in Pisces and Sun in Aries
On Friday, a brilliant New Moon Solar Eclipse at the very last degree of Pisces supports you launching any endeavor that involves charitable work, your imagination or your psychic senses.
The Sun moves into fiery Aries later in the day, reminding you that it's also OK to shine a light on what YOU want, too!
Sunday, March 22: Mercury sextile Pluto
Then, on Sunday, Mercury is sextile Pluto, helping to support the expression of your ideas and the execution of plans. Use it or lose it!
See what's in store for you personally with a Weekly Forecast Tarot reading now »