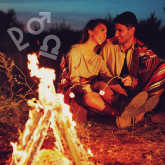 Weekly Astrology: March 30 to April 5, 2015
Intense energy is heating up this week!

Get ready for another super-busy week in the sky! Mars changes signs, there's a tense Lunar Eclipse, and a bunch of other activity for good measure. See what's in store for you personally with a Horoscope Tarot reading, and here's the lowdown on the key cosmic events the week of March 30 to April 5, 2015.
Monday, March 30: Venus trine Pluto and Mercury in Aries
This Monday will be your very best day for love. Venus in Taurus will trine Pluto, which is all about intense, gratifying (and in this case, earthy and sensual) encounters. Mercury also changes signs, moving into Aries, where he'll remain until April 14. With Mercury in Aries, you'll have no trouble asking for whatever it is you want!
Tuesday, March 31: Mars in Taurus
On Tuesday, Mars enters Taurus, where he'll remain until May 11. Now, the power of action will be rather bullish and determined. Sure, Mars in Taurus might be slower than other Mars placements, but make no mistake -- he never misses his target! If you're looking for a slow, steady burn to make sure you get the job done, you'll love the next few weeks. Also, with Mars in Taurus you can expect more of a passion to pursue the physical pleasures in life.
Thursday, April 2: Mercury trine Saturn and Sun trine Jupiter
This Thursday, Mercury will trine Saturn, while the Sun will trine Jupiter. Expect an all-around positive and peaceful day in which you'll enjoy productive conversations and inspiring social interactions. Enjoy it while you can because the weekend will be intense!
Saturday, April 4: Lunar Eclipse in Libra
A challenging Lunar Eclipse in Libra on Saturday might bring an ugly ending to a relationship (business or personal).
Sunday, April 5: Sun square Pluto
Then, on Sunday, the Sun will square off with Pluto. No one is feeling very compromising under this energy. Ouch!
Get more personal advice about life and love with a Horoscope Tarot reading »
Get more personal advice about life and love with a Horoscope Tarot reading »